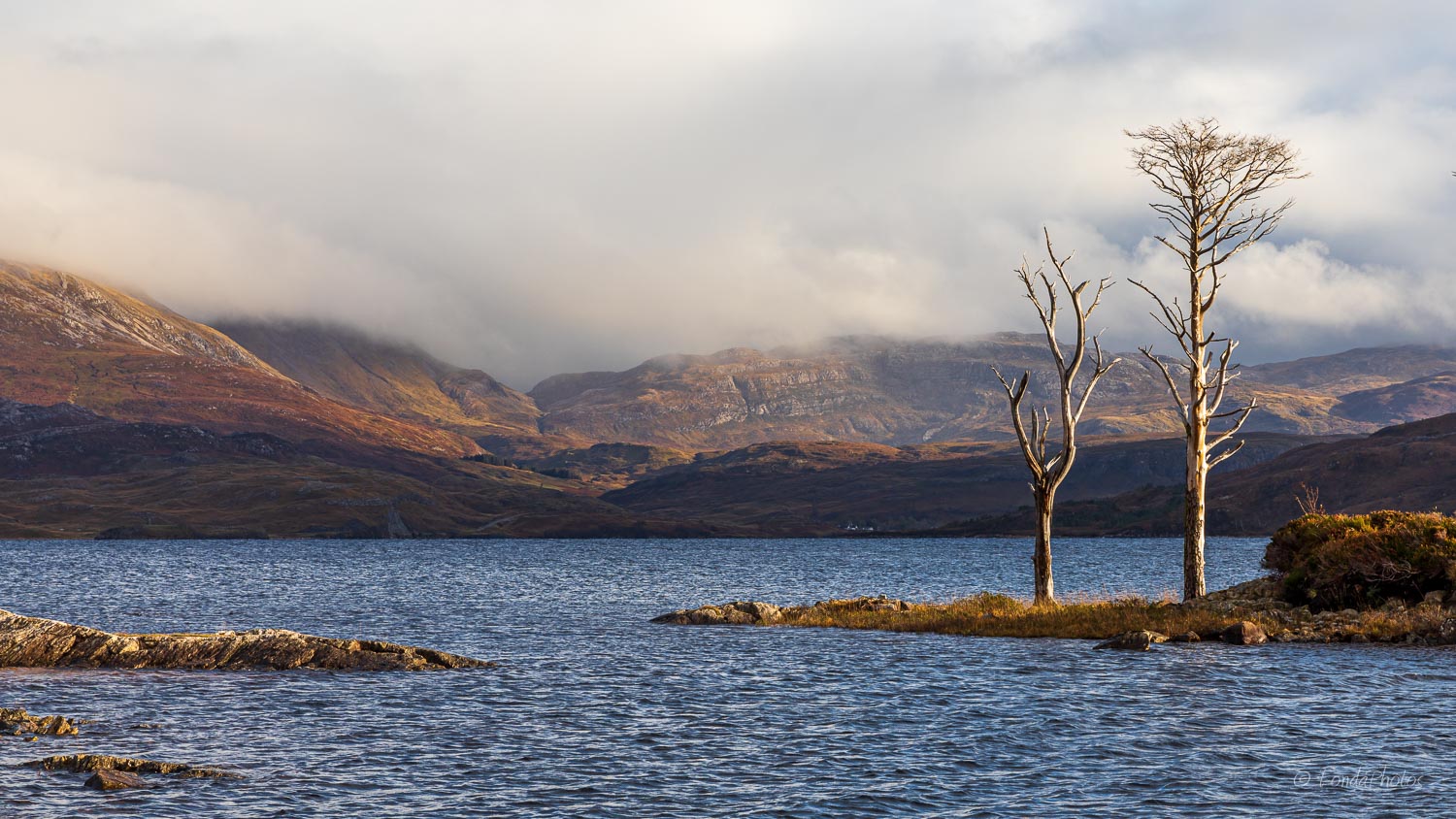 You will find truly extraordinary landscapes in Assynt, this region of Northwest Scotland situated north of Wester Ross. A vast, undulating moorland is studded with a maze of a thousand fresh-water lochans. Up from this rise a series of remarkable mountains. Although not high in altitude, these peaks are very steep and completely separate from one another, and are eroded into fantastic, individual shapes, making this one of the most memorable landscapes in Scotland.
With the fishing port of Lochinver in its center, the coastline is equally beautiful. There are cliffs, impressive sea stacks, and a whole series of sandy beaches.
The remarkable landscape and mountains of Assynt are immortalized by the pen of Norman MacCaig who inquired:
          " Who possesses this landscape? The man who bought it or I who am possessed by it? "
As always in Scotland, light changes every minute, if not every second. With the camera sturdily fixed on your tripod, the right composition in your viewfinder, and a bit of patience,  you can wait for the sun and clouds to draw your landscape. I'm very glad to share the emotions felt by discovering these marvels of nature.
Munros, Corbetts, and Grahams
Mountains in Scotland are catalogued in 3 categories with very special names: a Munro is a mountain over 3,000ft, a Corbett is a separate mountain between 2,500ft and 3,000ft while a Graham is between 2,000ft and 2,500ft. There are officially 282 Munros, 222 Corbetts and 222 Grahams in Scotland.
Munros have been named after the man who first catalogued them, Sir Hugh Munro, the Tory MP. The name Corbetts comes from John Rooke Corbett who in 1930 became the first person to climb all the 2000-feet-high peaks in Scotland. And finally the Grahams are named after Fiona Torbet (nee Graham) who published her own list of these peaks in the early 1990s.
This gallery includes 3 Corbetts, Cùl Mòr being the highest with 2,785ft. Suilven and Stac Pollaidh are Grahams while Cnoc an Leathaid Bhuidhe is not elevated enough to be categorized. There is only one Munro in Assynt, Ben More.
A few pics from Stoer Lighthouse and Clachtoll Beach Split Rock.
Lochs and Islets in Assynt
Most of these pics come from Loch Assynt, the largest fresh-water loch in the region. With a maze of hundreds of lochs and lochans, countless islets covered by trees, dead or alive, and majestic Corbetts and Grahams in the background, without forgetting frequent rainbows, Assynt provides endless opportunities for the landscape photographers.


Ruins of a fifteenth century castle built by the Macleod Clan, which stands on the north shore of Loch Assynt. It witnessed regular local clan warfare throughout its history but it became infamous for its role in national events in 1650 when James Graham, Marquis of Montrose was betrayed there and handed over to his Covenanter enemies.