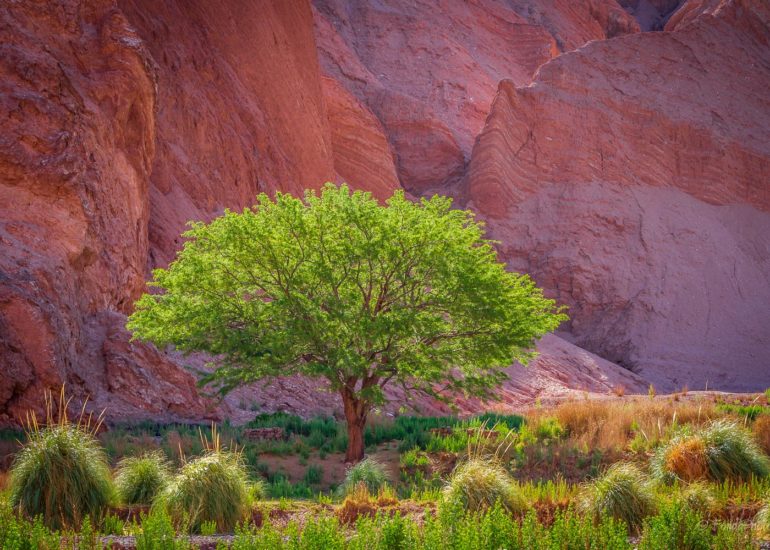 San Pedro de Atacama and Surroundings
The village of San Pedro de Atacama is situated in an oasis north of the Atacama salt flat (salar de Atacama). It is the basecamp for tourism in the region, offering all sorts of accommodation from guest houses to 5 stars hotels.
We reached San Pedro on August 23 after a night spent on a bus from Purmamarca, Argentina. The bus followed Route 27 which comes from Argentina through Paso de Jama and ends at the Customs office. After renting a car, we stayed for 5 days in the splendid Alto Atacama hotel situated on Rio San Pedro just outside the village.
On August 25 in the morning, light snow fell in the desert for about 3 hours. It was the first time in 30 years! In the afternoon we headed towards Socaire, 80 km from San Pedro. Socaire is a village located on Route 23 that leads to Argentina through Paso de Sico.  After Socaire, Route 23 continues to the magnificent lagunas Miscanti and Miñiques at an elevation of 4,300 m. Unfortunately, because of the snow, we could not drive any further. We ate a warm soup at a small restaurant in Socaire on main street. With snow covering the thatched roof, water was dripping inside the restaurant through the ceiling. We then headed back to San Pedro.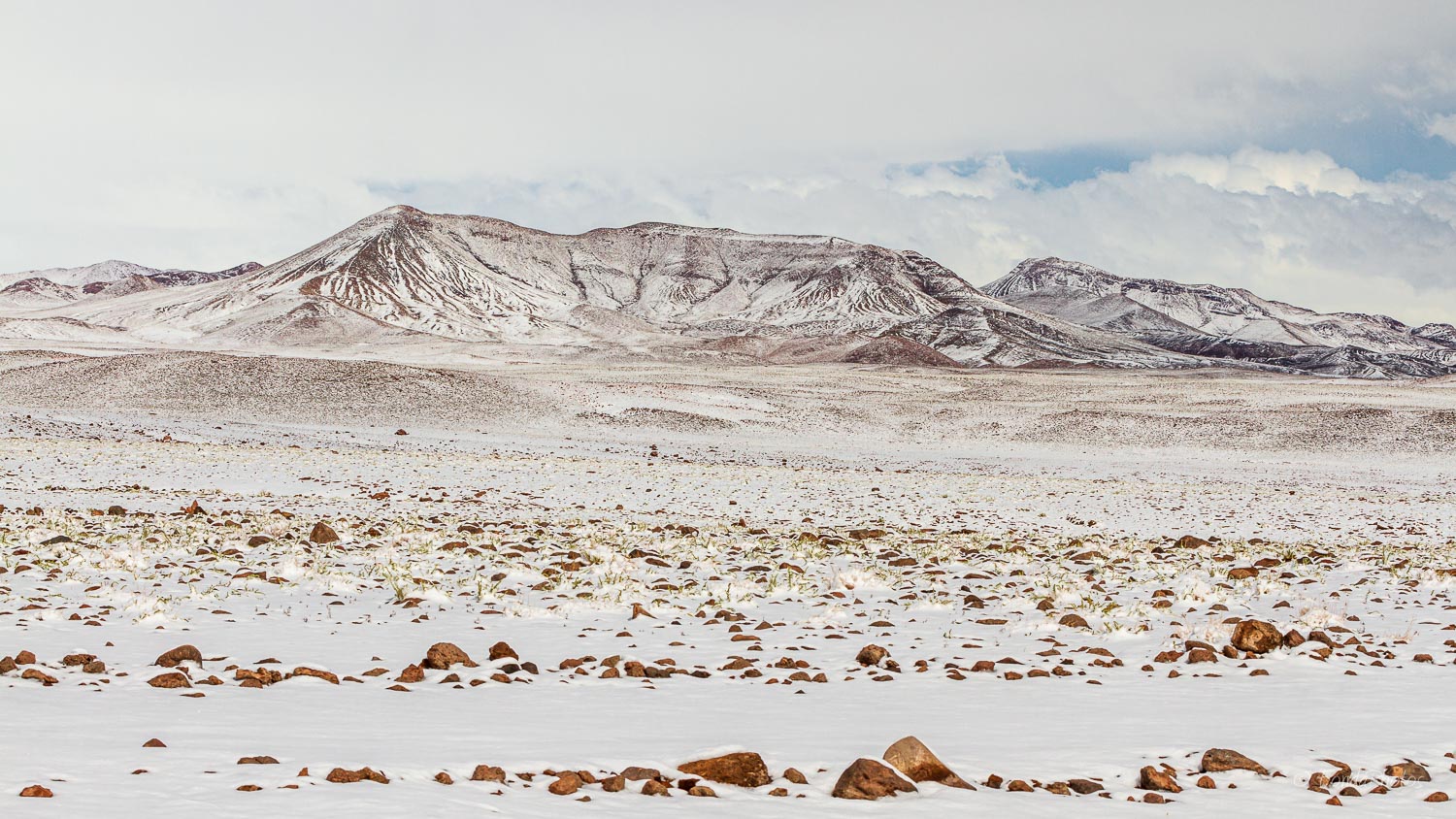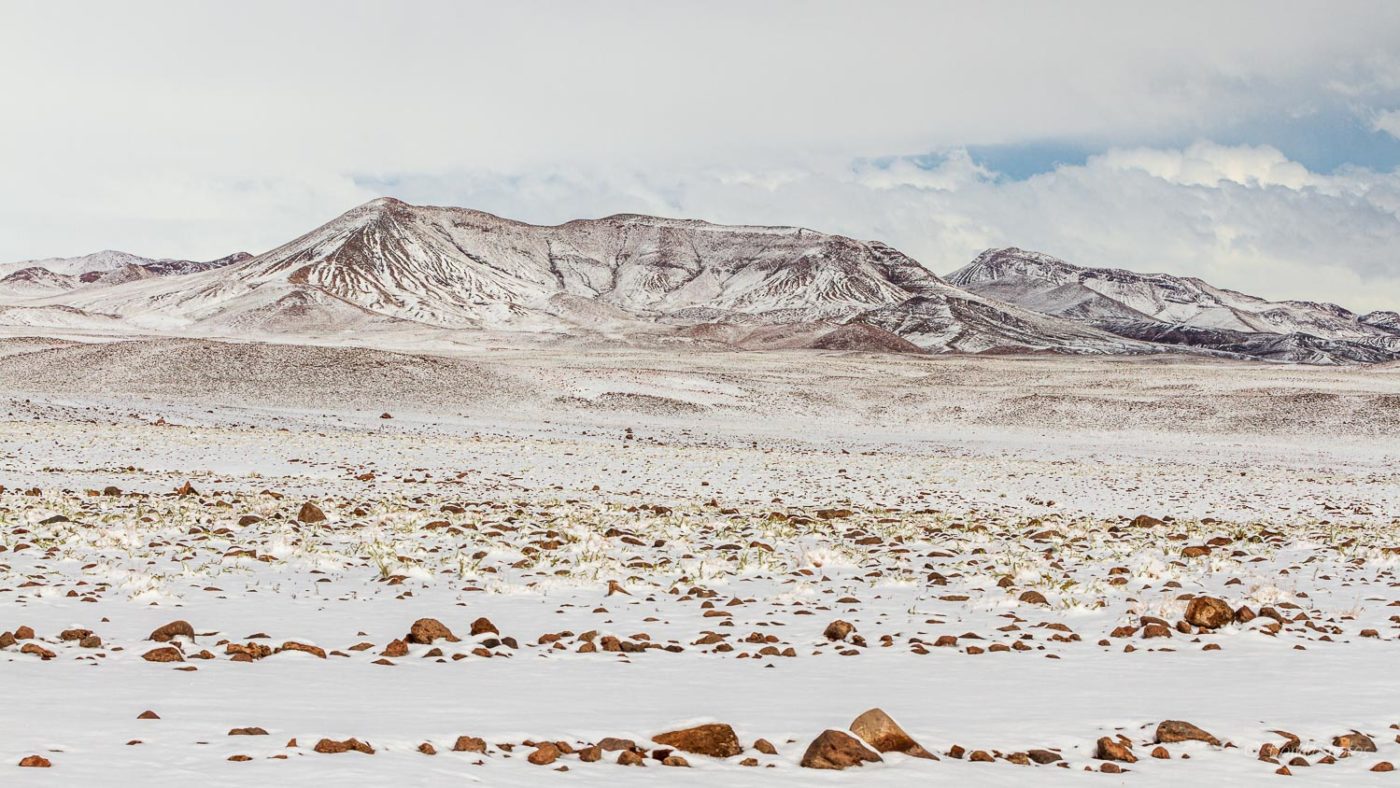 Back to San Pedro in November 2016
San Pedro was the starting point of my second visit to northern Chile, this time with a group of photographers on a trip organized by Photographes du Monde. We reached San Pedro after a short bus ride from Calama where our flight had landed. It was closer to summer and we could enjoy much warmer temperatures. Very much appreciated for early morning shooting sessions on the altiplano!
San Pedro is an excellent place to get accustomed to high altitudes. By staying for a couple of days, visiting spots at 4,000 meters and above each day, and with the help of coca leaves, you can avoid mountain sickness.
The start of the program was relaxed with a morning photo session on August 27 in Valle de la Muerte. In the afternoon, we followed the banks of Rio San Pedro, north of the village, and drove up a steep track to the plateau overlooking Rio San Pedro valley. Great view all the way to Licancabur volcano and colorful sunset on the opposite side.
Licancabur Volcano – 30 minutes apart
Valle de Marte (Valley of Mars) or Valle de la Muerte (Death Valley):  I won't add to this discussion but you will find plenty of explanations of the web. This valley lies just a few miles outside of San Pedro. The view from the western entrance just before sunrise was fantastic, with a pinkish light. After a first shooting session, we walked down into the valley during at least two hours, until we reached the vehicles at the opposite end of the pathway. A well deserved breakfast was waiting for us.