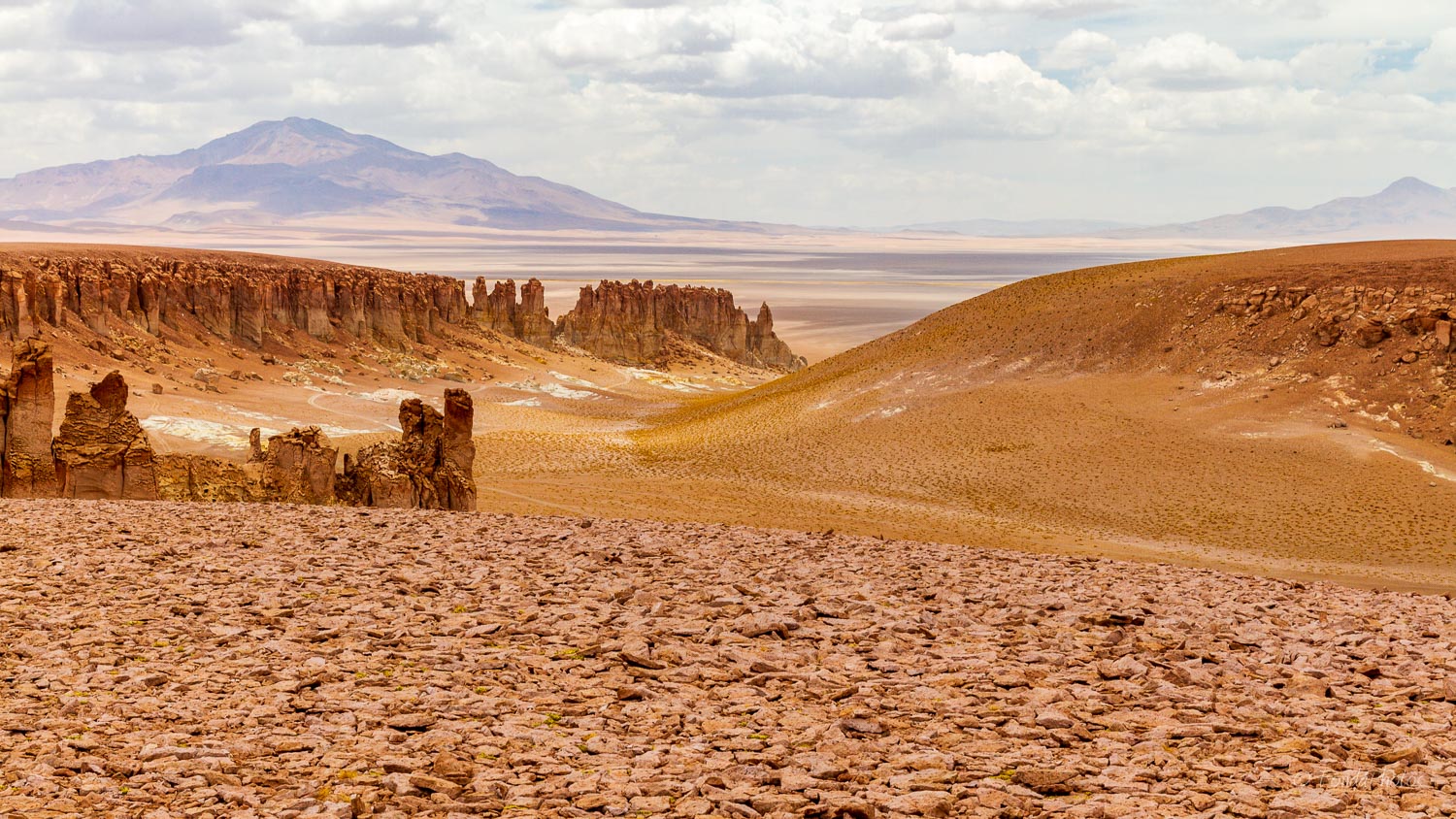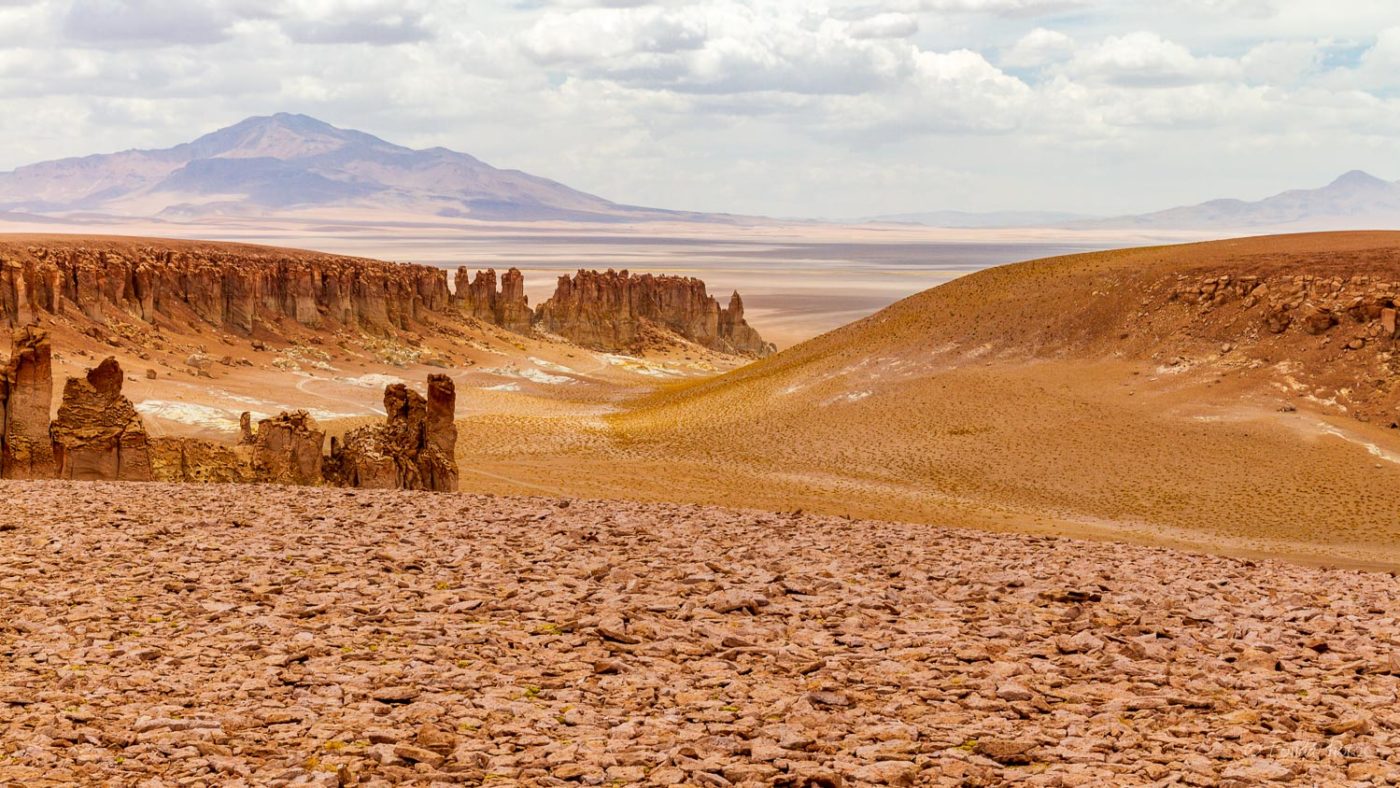 Los Flamencos National Reserve
Los Flamencos National Reserve is a nature reserve located east and south of San Pedro de Atacama. It covers a total area of 290 sq mi and  consists of seven separate sections.
I have curated this series of photos from different spots of the reserve, all accessible during day-trips from San Pedro. Photos from the lagunas on the Salar de Atacama are visible here.
On November 29, 2016 we left Toconao very early in the morning while it was still dark. We drove south and passed Socaire in the direction of Salar de Talar. We left the road to laguna Miscanti on our left and bypassed volcano Miñiques. The light was gorgeous when we encountered a group of vicunas. With back-lit vicunas and Salar de Talar in the distance, conditions were ideal for our first shots.
We reached the salt flat while the light was still low on the horizon and no one around. Because of the altitude, ~4,000 m, the water was partially frozen and perfectly still. Excellent conditions for capturing beautiful blue reflections of the hills in front of us! A bit later, the sun began to hit the surface and flamingos were on the move. We could observe an amazing procession when one flock decided to regroup with a second one by walking in line alongside the flat.



Lagunas Miscanti and Miñiques
After our visit to Salar de Talar, we turned back towards San Pedro and took the track to Laguna Miscanti on the opposite side of volcano Miñiques. My first attempt to visit these two lakes was three years earlier, in August 2013. At that time, I was visiting San Pedro with my family. Unfortunately the road was closed in Socaire, because of thick snow.
This time it was different and we discovered the lagunas under a bright blue sky. Laguna Miscanti is the largest of the two lakes at an altitude of ~4,100m. There were a few tourists on site but they didn't prevent us from shooting good panos. Laguna Miñiques is the smallest lake, separated from the first one by an ancient lava flow. A couple of vicuñas were grazing around, always so gracious!
After a few hours, we drove back towards San Pedro and made a stop in Socaire for lunch. By coincidence, we entered the same restaurant as three years earlier. It was full of tourists on their way back from Laguna Miscanti but this time no water dripping from the ceiling!



The name can be translated as Pecan Monks. These rock sentinels which guard the beautiful site have a volcanic origin. They have been formed by millions of years of erosion due to the wind.
I visited this area on November 30, 2016. We drove on Route 27 from San Pedro, heading towards Paso de Jama. After ~120 km, we followed tracks that took us to the monks, not too far from the main road. We spent a good hour walking around the rock pillars to capture the best possible shots. Breathing was made difficult because of the altitude; we couldn't walk fast and had to stop regularly.
We then came back to the cars and continued on the same tracks, driving east in the direction of Salar de Tara.
After our stop at the Monjes de la Pacana, we continued driving east for about 10 miles and reached Salar de Tara. This is another section of Los Flamencos National Reserve, 120 km east of San Pedro at an altitude of 4,300 m. The arrival on the salar is quite majestic as you follow imposing cliffs, locally called Catedrales de Tara.
This is one of the seven sections of the Natural Reserve, the one closest to San Pedro. It encompasses various stone and sand formations which have been carved by wind and water. It has an impressive range of color and texture, looking somewhat similar to the surface of the moon. The valley is also considered one of the driest places on earth, as some areas have not received a single drop of rain in hundreds of years. Scientists tested there a prototype for a Mars rover because of the valley's dry and forbidding terrains. These photos from Valle de la Luna were shot on August 26, 2013 just before sunset.