A glen is a valley, typically one that is long and bounded by gently sloped concave sides, usually created by a glacier. In Scotland, it refers to a deep valley in the Highlands.
Glencoe, located south of Fort Williams, and its surroundings are a very scenic area in the Highlands. This is where I discovered Scotland during my first trip in May 2014.
A very scenic road which passes by the Three Sisters before reaching Glencoe village.
Amazing 18 km ride along the River Etive until the Etive sea loch.
A scene from James Bond's Skyfall was filmed on the Dalness Estate in Glen Etive at the beginning of 2012. The estate is now owned by the National Trust of Scotland but once belonged to the family of James Bond's creator, Ian Flemming. The road along the river where Bond tells M that this is where he comes from, is single track and a dead end. It leads to the Skyfall House, a film set built at the head of Glen Etive which has been removed.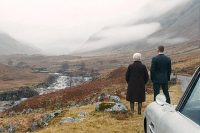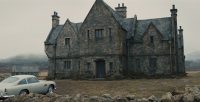 Castle Stalker is a four-storey tower house picturesquely set on a tidal islet on Loch Laich. The islet is accessible from the shore at low tide. The name Stalker comes from the Gaelic Stalcaire, meaning hunter or falconer. The island castle is one of the best-preserved medieval tower-houses to survive in western Scotland.
In recent times, the castle was brought to fame by the Monty Python team, appearing in their film Monty Python and the Holy Grail.